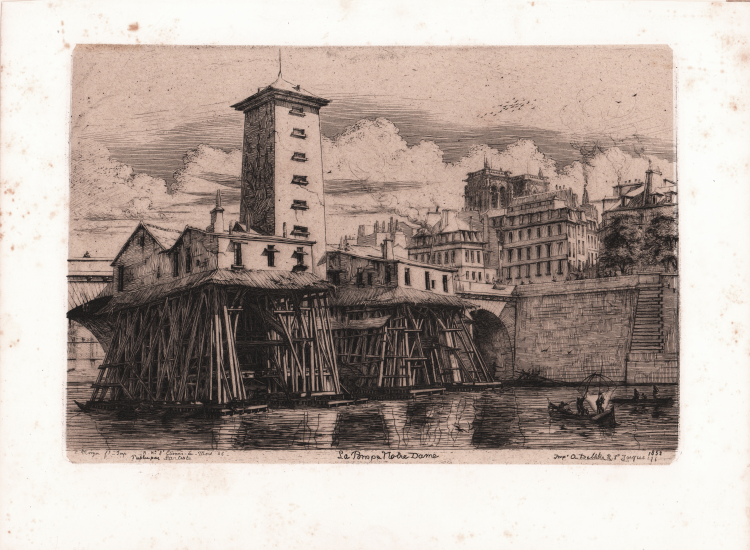  
| | |
| --- | --- |
| Reference: | S42026 |
| Author | Charles MERYON |
| Year: | 1852 |
| Measures: | 251 x 172 mm |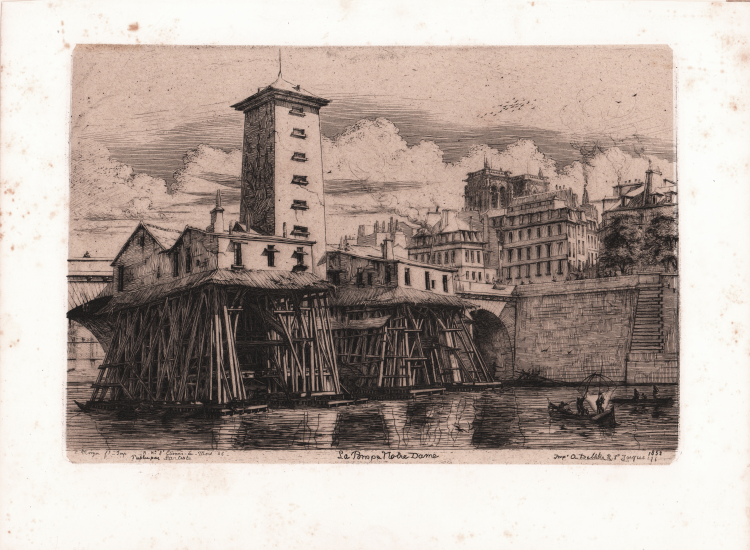  
| | |
| --- | --- |
| Reference: | S42026 |
| Author | Charles MERYON |
| Year: | 1852 |
| Measures: | 251 x 172 mm |
Description
Etching and aquatint, 1852, printed in brown-black ink. Signed in plate, lower left: C. Meryon ft. Imp Inscribed, following signature in plate, lower left: R. No St. Etienne-du-Mont 26 /Publie par L'Artiste; title, and Impe A. Delâtre R. St Jacque 176 Dated, lower right corner: 1852
Example in the VII state of IX or VIII of X, published by L'Artiste. Very good condition.
From the series 'Eaux-fortes sur Paris' by Charles Meryon, a series of 22 etchings published by the artist in three parts between 1852 and 1854.
The demolition of the water pump on the Notre-Dame bridge, ordered by the Paris municipal government in 1851, encouraged Meryon to select the old structure as a subject for his etching the following year. As part of the plan instituted by Emperor Napoleon III to improve city infrastructure, the water supply system was overhauled, rendering this seventeenth-century pump defunct. Meryon wrote in 1853 of his regret for its destruction, because the pump had been an "unusual and curious thing" in a city that was becoming "more and more regular."
A pioneering master of original etching in France, Charles Meryon (Parigi 1821 - Charenton 1868) was a solitary and disturbed genius of great creative power. He was described by the leading figure of the British Etching Revival, Sir Francis Seymour Haden, as "undoubtedly one of the greatest artists on copper that the world has produced" - no etcher could wish for greater praise. Indeed, the sincerest form of flattery, that of imitation, has been displayed of Charles Meryon's etchings more than of almost any other artist excepting Rembrandt.
References:
Burty ,45; Wedmore, 15; Delteil & Wright, Catalogue raisonné of the etchings of Charles Meryon 31 VII/IX; Schneiderman, The Catalogue Raisonné of the Prints of Charles Meryon, 26 VIII/X; Delteil, 31 VII/IX.