CAVALCATA FATTA DA N S PAPA PAOLO V...ALLI VI NOVEMBRE MDCV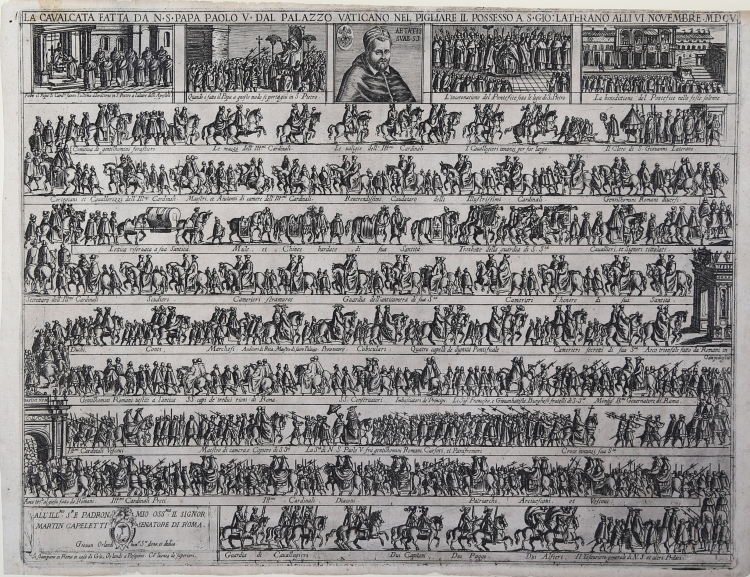  
| | |
| --- | --- |
| Reference: | 34164_AM |
| Author | Giovanni ORLANDI |
| Year: | 1605 |
| Measures: | 510 x 400 mm |
Description
Etching with engraving, 1605, at lower left: Si Stampano in Roma in casa di Gio. Orlandi a Pasquino. Cõ licenza de' superiori
Lettered along the top margin: CAVALCATA FATTA DA N S PAPA PAOLO V DAL PALAZZO VATICANO NEL PIGLIARE IL POSSESSO A S GIO LATERANO ALLI VI NOVEMBRE MDCV.
At lower left, in the cartouche, the dedication: ALL'ILL.MO S.R.E PADRONE MIO OSS.MO IL SIGNOR/MARTIN CAPELETTI SENATORE DI ROMA/ GIOVAN ORLANDI HUM.O S.RE DONA ET DEDICA.
Dedication in lower left corner: All illmo. sr. e padron mio ossmo. il Signor Martin Capeletti, Senatore di Roma. Giouan Orlandi humo. Sre. dona, et dedica".
The plate shows the taking possession of pope Paulus V, on 6th November 1605. A long papal procession, with people on foot and on horsenack, represented in nine horizontal rows with bars of text in between describing the various members of the procession. At the top of the print are five small vignettes, two on either side depicting scenes from the Papal coronation ceremonies, and a portrait of Pope Paul V in the center, at age of 53.
The papal possesso was part of  the  ritual  that  legitimized  the  pope  as  Bishop  of Rome. By  crossing  the  city  in  this capacity the pope showed himself to his parishioners thus establishing a bond, publicized his occupation  of  the  episcopal  office  alongside  his  role  as  prince  of  the  Papal  States,  and physically passed through  the city's important spaces, beating selective bounds.
Magnificent example, rich in shades, of an extraordinary rare engraving, printed on contemporary laid paper, with margins, light repairs perfectly executed on the margins, otherwise in good condition.