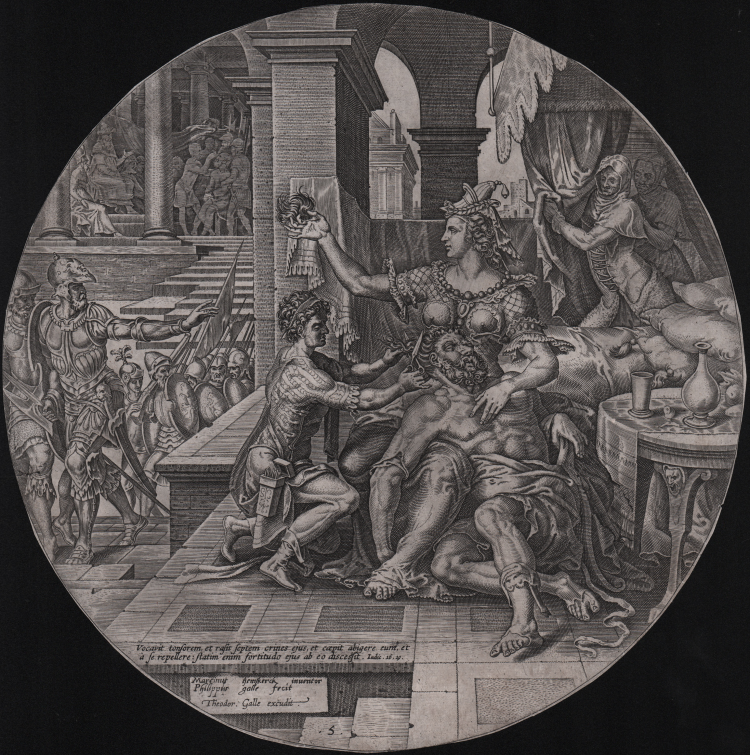  
| | |
| --- | --- |
| Reference: | S44278 |
| Author | Philippe GALLE |
| Year: | 1560 ca. |
| Measures: | 255 x 255 mm |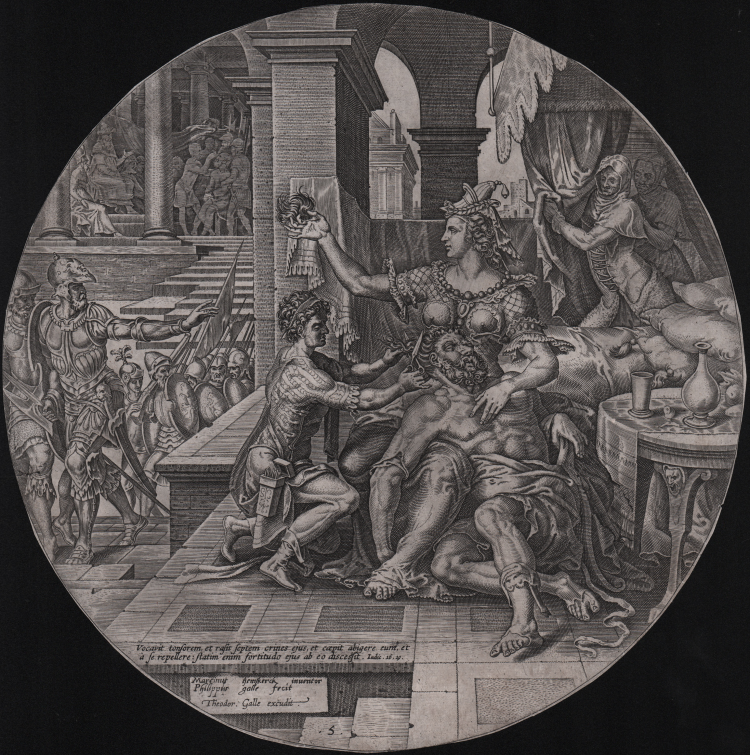  
| | |
| --- | --- |
| Reference: | S44278 |
| Author | Philippe GALLE |
| Year: | 1560 ca. |
| Measures: | 255 x 255 mm |
Description
Samson and Delilah; Samson lies in the lap of Delilah and she holds up a lock of his hair; another figure kneels besides with scissors; a group of soldiers stand by at left; round plate; after Heemskerck.
Lettered below left "Martinus hemskerck inventor / Philippus galle fecit / Theodor Galle excudit". Numbered below "5".
Second state with the publisher's address of Theodor Galle instead of  Hieronymus Cock. Invented by Maerten van Heemskerck and engraved by Philips Galle.
From the series The story of Samson, consisting of six circular plates (cfr. New Hollstein, nn. 85-90).
Samson smiting the Philistines with the jawbone of an ass; a ferocious battle with a heap of bodies below; in the distance a field of wheat is in flames and Samson walks off with some gates.  
Maarten Van Heemskerck (1498 - 1574), painter and print designer, trained in Haarlem under Jan van Scorel and worked in Haarlem and Italy. He was a prolific designer of compositions for prints, almost all made by others. Artists who engraved after his drawings are Dirk Coornhert (c.1547-59), Philips Galle (from 1559), Cornelis Bos and Theodoor de Bry. 
A fine impression, printed with tone on contemporary laid paper, trimmed to the platemark, very good condition.
Bibliografia
Riggs 1977 121; New Hollstein (Dutch & Flemish) 15 (Philips Galle); New Hollstein (Dutch & Flemish) 89.II (Maarten van Heemskerck).