Typus orbis descriptione Ptolemaei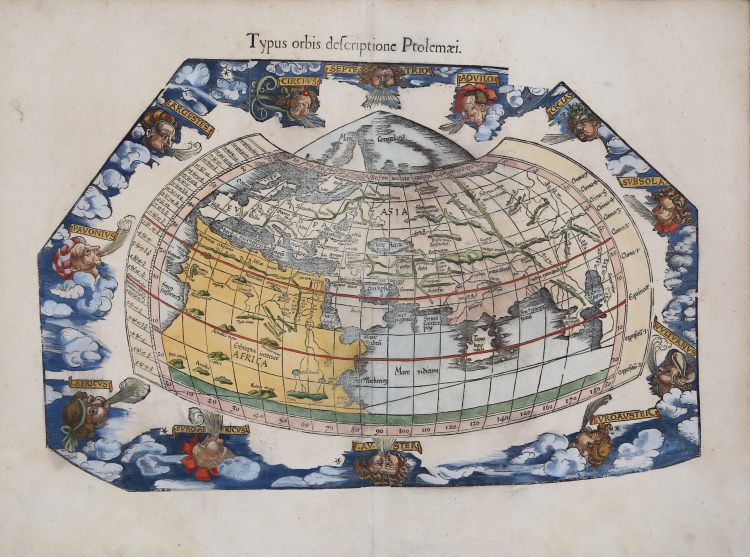  
| | |
| --- | --- |
| Reference: | S42973 |
| Author | Laurent FRIES |
| Year: | 1522 ca. |
| Zone: | The World |
| Printed: | Vienne |
| Measures: | 465 x 325 mm |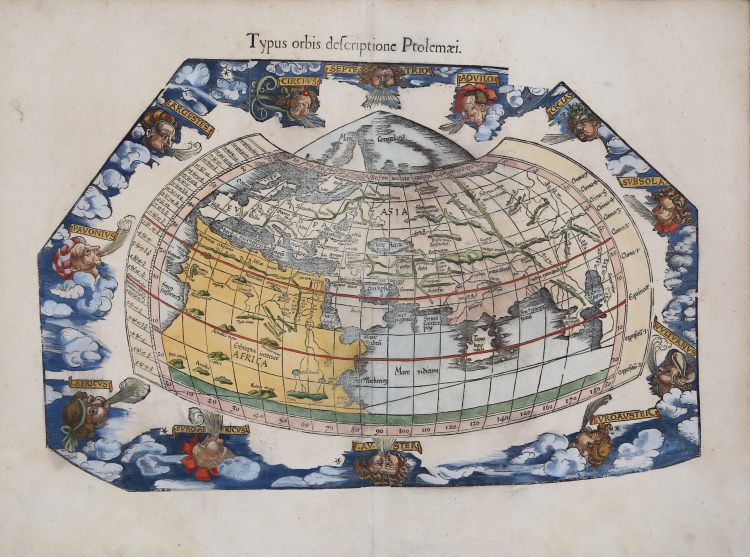  
| | |
| --- | --- |
| Reference: | S42973 |
| Author | Laurent FRIES |
| Year: | 1522 ca. |
| Zone: | The World |
| Printed: | Vienne |
| Measures: | 465 x 325 mm |
Description
Striking example of the Ptolemy's World map, from the 1541 edition of Geographia by Laurent Fries.
This is one of three world maps included in Fries' Ptolemaic atlas and one of the few early 16th century world maps available to collectors. This striking woodblock world map is a reduced-scale version of Waldseemuller's Ptolemaic map of 1513, which was on the traditional modified conical projection. The area above 65 degrees north is noted as Mare Congelatum (Frozen Sea). The map is surrounded by 12 wind heads representing the classical winds blowing from each direction. This edition was printed Gaspare Treechsel published in Vienne, 1541.
The first edition of Ptolemy's Geographia edited by Fries was published in Strasbourg in 1522, with maps that were copied and re-engraved from those of Martin Waldseemüller of the 1520 edition of Ptolemy and text edited by Pirckheimer. In 1525 a second edition was printed in Strasbourg. At the death of Fries and Gruninger, the plates were purchased by the brothers Melchior and Gaspar Treschel, who printed a third edition in Lyon in 1535. For the text, the two editors used the supervision of Michael Servetus, who edited Pirckheimer's text. Finally, in 1541, Gaspare Treechsel published in Vienne, in the Dauphiné, this fourth edition, again with Servetus' text. In this edition, compared to the first edition of Strasbourg in 1522, the text underwent numerous changes, corrections and additions, but the wood-blocks were not changed. 
Woodcut, finely colored by hand, small restoration in the middle fold and at the lower white margins perfectly executed, for the rest in excellent condition.
Bibliografia
Shirley, Rodney W. The Mapping of the World: Early Printed World Maps, 1472-1700. London: Holland Press, 1983, #47.