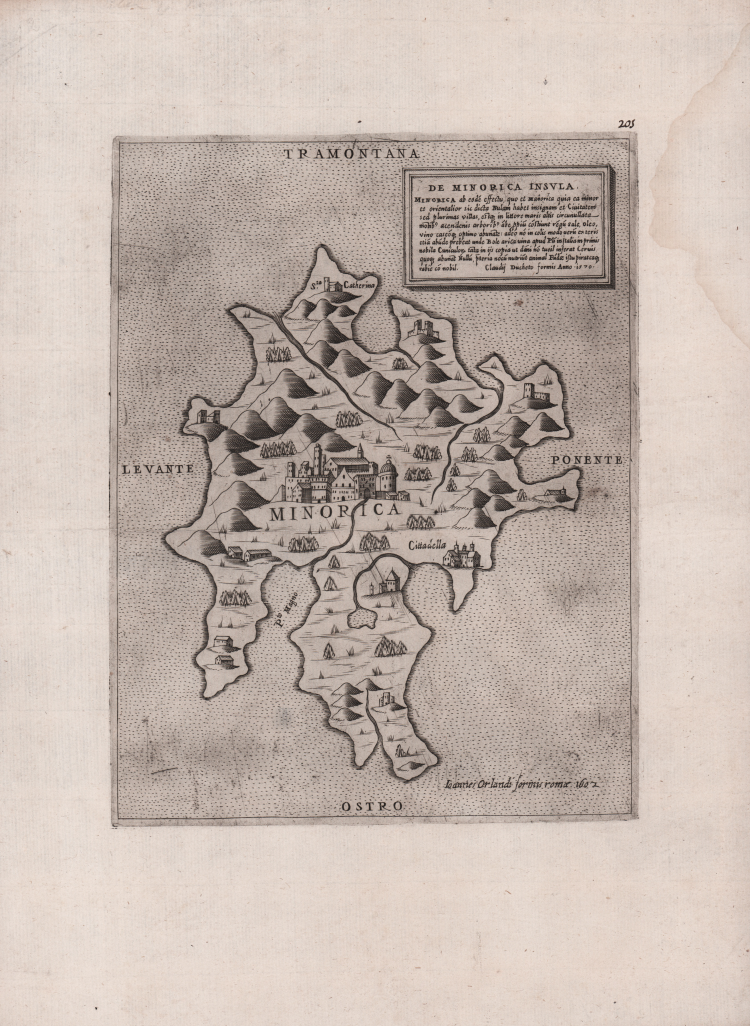  
| | |
| --- | --- |
| Reference: | S39345 |
| Author | Claudio DUCHET (Duchetti) |
| Year: | 1570 |
| Zone: | Minorca |
| Printed: | Venice |
| Measures: | 200 x 265 mm |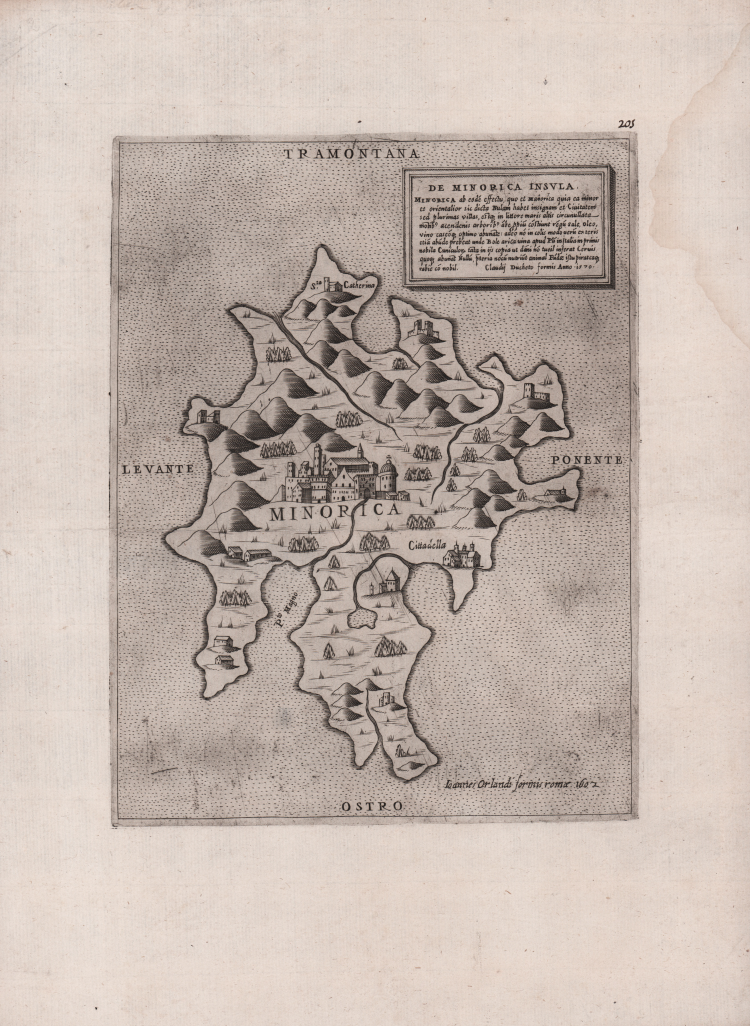  
| | |
| --- | --- |
| Reference: | S39345 |
| Author | Claudio DUCHET (Duchetti) |
| Year: | 1570 |
| Zone: | Minorca |
| Printed: | Venice |
| Measures: | 200 x 265 mm |
Description
At the center of the island, in large letters, reads: MINORICA. In the cartouche in the upper right corner is engraved the title: DE MINORICA INSULA. MINORICA ab eode[m] effectu, quo et Maiorica quia ea minor et orientalior sic dicta. Nulam habet insignam et Civitatem sed plurimas Villas, est q[ue] in littore maris altis circunullata mo[n]tib[us] acenderis arborib[us] a[m]be p[ro]piu[m] co[n]stiunt reg[n]u[m] sale, oleo, vino caseoq[ue] optimo abunda[n]te: adeo no[n] in colis modo veru[m] exteris etia[m] abu[n]de prebeant unde Bolearica vina apud Pli[n]. in jtalia in primis nobila Cuniculor[um] ta[n]ta in ijs copia ut da[m]ni no[n] ….inferat Cervis quoq[ue] abunda[n]t Nullu[m] p[re]teria nocu[m] nutriu[n]t animal Fu[n]dae istu piratcaq[ue] rabie co[n] nobil. Claudij Ducheto formis Anno 1570.
Orientation in the four sides in the center with the name of the winds: TRAMONTANA, OSTRO, PONENTE, LEVANTE, north is at the top.
Etching and engraving by Paolo Forlani and published for the first time in Venice by Claudio Duchetti in 1570. Second state - known for only one other copy preserved at the BAV - with the imprint of Giovanni Orlandi: Io. Orlandi for. Rome 1602.
Last variant in chronological order of the map of Menorca, the only one dated. This map is also a faithful copy of the unknown and distorted model, proposed for the first time by Bertelli. Almagià defines it as a "crude copy, as evidenced by the large number of errors in the legend". The map could be for the first time printed in Venice, as it relates to Duchetti's Venetian period, where the publisher had a close collaboration with Paolo Forlani. The plate was then taken to Rome, as shown by its presence in the catalog of the widow of Giacomo Gherardi (October 1598, n. 342) where it is described as "Minorca Isola foglio picolo reale"). The plate was then purchased by Giovanni Orlandi in 1602. Of this issue is known only the example preserved in the Vatican Library" (see S. Bifolco, F. Ronca, Cartografia e topografia italiana del XVI secolo, p. 1148).
The map of Menorca signed by Ferrando Bertelli, although undated, seems to be the oldest of this type of maps, and belongs to a large editorial project of the typography Bertelli that produces a series of maps dedicated to the islands of the Mediterranean, starting from about 1560. From the cartographic point of view, the maps are not absolutely reliable; the morphology of Menorca is strongly distorted. The capital Mahon, without topographical indication, and represented by a huge city wrongly placed at the center of the island. The cartographic source is unknown.
Magnificent proof, printed on contemporary laid paper with watermark "Lion of St. Mark in an oval shield surmounted by a cardinal's hat" (Woodward n. 45, found on prints dated 1580, 1593), with wide margins, light waterstain in the right margin, otherwise in excellent condition.
A very rare map. Cartografia e topografia italiana del XVI secolo, describes only 5 examples of first state [Atlante Doria; Atlante Stevens-Beans-Nebenzahl; Birmingham, Public Library; Paris, Bibliothèque Nationale (2)] and, as mentioned, only one of the Orlandi edition [Biblioteca Apostolica Vaticana].
Bibliografia
S. Bifolco, F. Ronca, Cartografia e topografia italiana del XVI secolo, pp. 1148-49, tav. 482, II/II; Almagià (1948): p. 104, n. 45; Destombes (1970): n. 10; Tooley (1939): n. 393.