Nova Descriptione del Friuli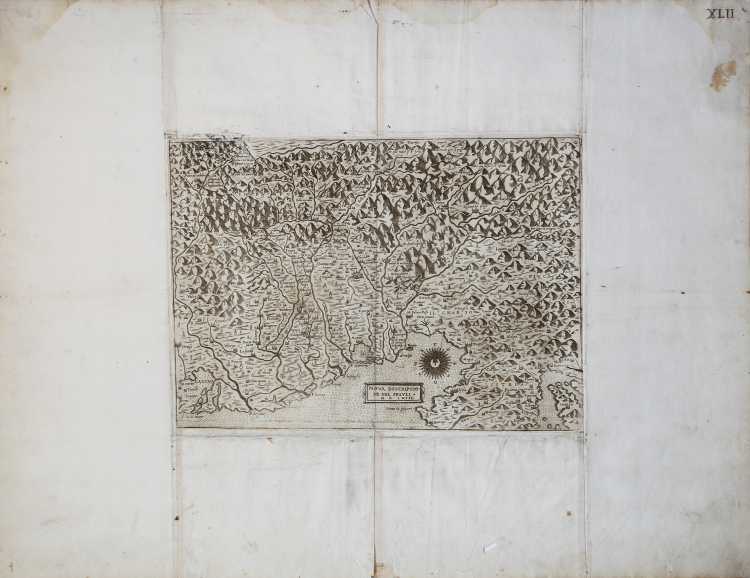  
| | |
| --- | --- |
| Reference: | S32091 |
| Author | Paolo FORLANI |
| Year: | 1563 |
| Zone: | Friuli |
| Measures: | 385 x 290 mm |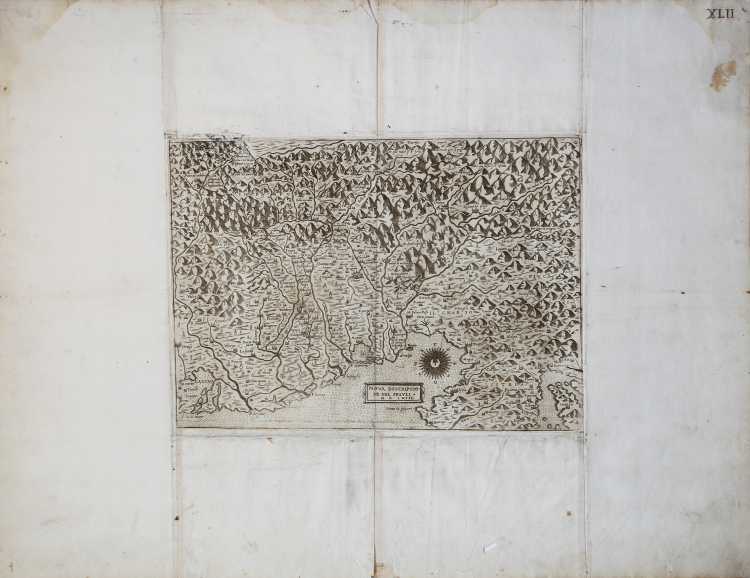  
| | |
| --- | --- |
| Reference: | S32091 |
| Author | Paolo FORLANI |
| Year: | 1563 |
| Zone: | Friuli |
| Measures: | 385 x 290 mm |
Description
Anonymous map, without editorial data, first published in 1561 and attributed by David Woodward, in his essay on the Veronese engraver, to Paolo Forlani.
Example of the fifth state of eight described by Bifolco-Ronca (2018), with the date M.D.LXIII. and showing the island of Grado.
In a rectangular cartouche, placed in the sea, is engraved the title: NOVA DESCRIPTIONE DEL FRIULI M.D.LXIII.
First copperplate replica of the map by Giovanni Andrea Vavassore of 1550, the oldest printed map of the area and, together with the manuscript map by Giovanni Antonio Cortona (before 1554), the cartographic source for Friuli.
The work of Vavassore shows an accurate representation of the mountainous relief, as well as an evident scrupulousness in the dense reproduction of the basins of the three major rivers, the Isonzo, the Tagliamento and the Livenza. The toponymy, however, shows only the large towns, castles, abbeys, sanctuaries and strategic points of clear military and economic importance. It seems clear that the map therefore had a military function.
The map derives from the map of Vavassore, of which it represents a good replica in copper. Compared to the model, it proposes numerous modifications with regard to coastal lines, hydrography and toponymy. This map, without editorial data, appears for the first time in 1561, with a proof without the wind rose and is reprinted without changes in 1562 and 1563, and again in 1563, is published another reprint that bears the name of Giovanni Francesco Camocio. Lago argues that the 1561 edition would not be the first, on the basis of some erasures noted on the plate in correspondence of the coast between Caorle and Marano. A reprint with the address of Camocio abraded is also known, and one with that of Donato Bertelli, already mentioned by Almagià (see Bifolco - Ronca, Cartografia e topografia italiana del XVI secolo (2018), pp. 1942-43, table 976, V/VIII).
Magnificent example, printed on contemporary laid paper, trimmed to the borderline and with wide white margins added at the time (in the typical style of composite Atlases). On the upper right hand side, number in manuscript "XLII".
Work of great rarity and importance.
Bibliografia
S. Bifolco, F. Ronca, Cartografia e topografia italiana del XVI secolo (2018), pp. 1942-43, tav. 976, V/VIII; Almagià (1948): p. 88, n. 12; Borroni Salvadori (1980): n. 47; Almagià (1929): p. 29, A-B; Bifolco-Ronca (2014): n. 59; Karrow (1993): n. 4/1.2; Lago-Rossit (1988): pp. 119-122, tavv. XXXV-XXXVII; Lago (1989): p. 254, nn. 118-119; Lago (1994): p. 326, fig. 15; Lago (2002): p. 374, figg. 369-370; Perini (1996): p. 85; Tooley (1939): nn. 224, 225, 227 & 228; Woodward (1990): n. 05.01-03; Woodward (1992): n. 14.
Paolo FORLANI(Attivo a Venezia seconda metà del XVI secolo)
Paolo FORLANI(Attivo a Venezia seconda metà del XVI secolo)