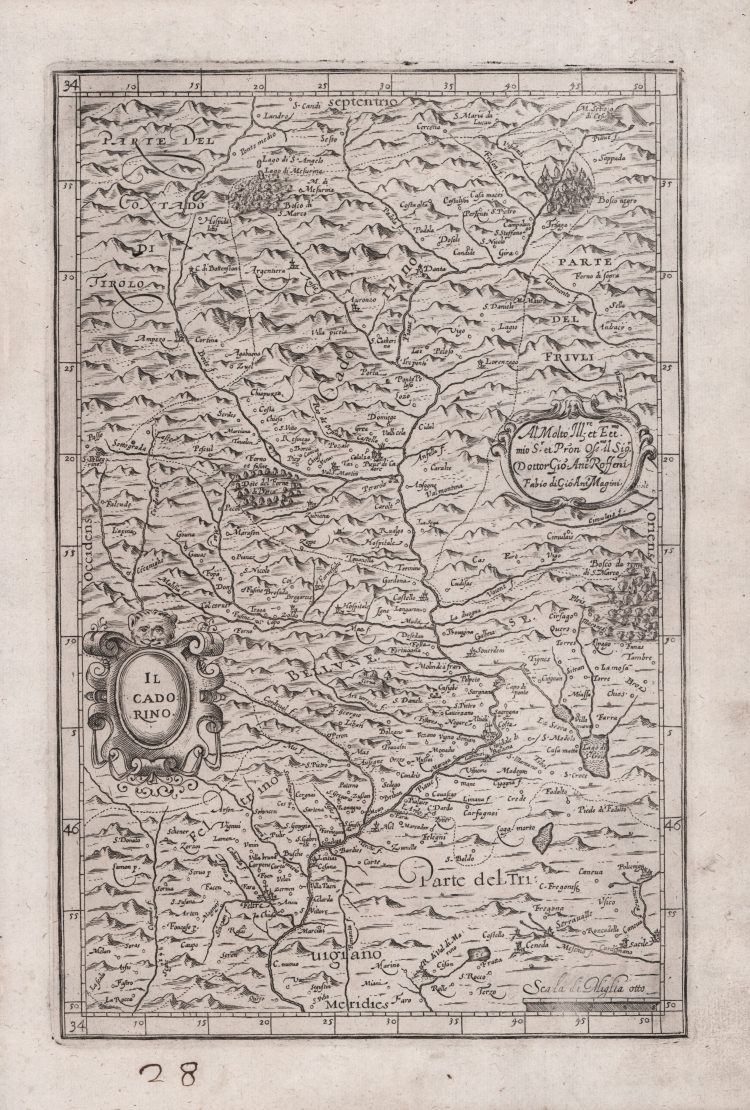  
| | |
| --- | --- |
| Reference: | S40978 |
| Author | Giovanni Antonio MAGINI |
| Year: | 1598 ca. |
| Zone: | Cadore |
| Printed: | Bologna |
| Measures: | 235 x 355 mm |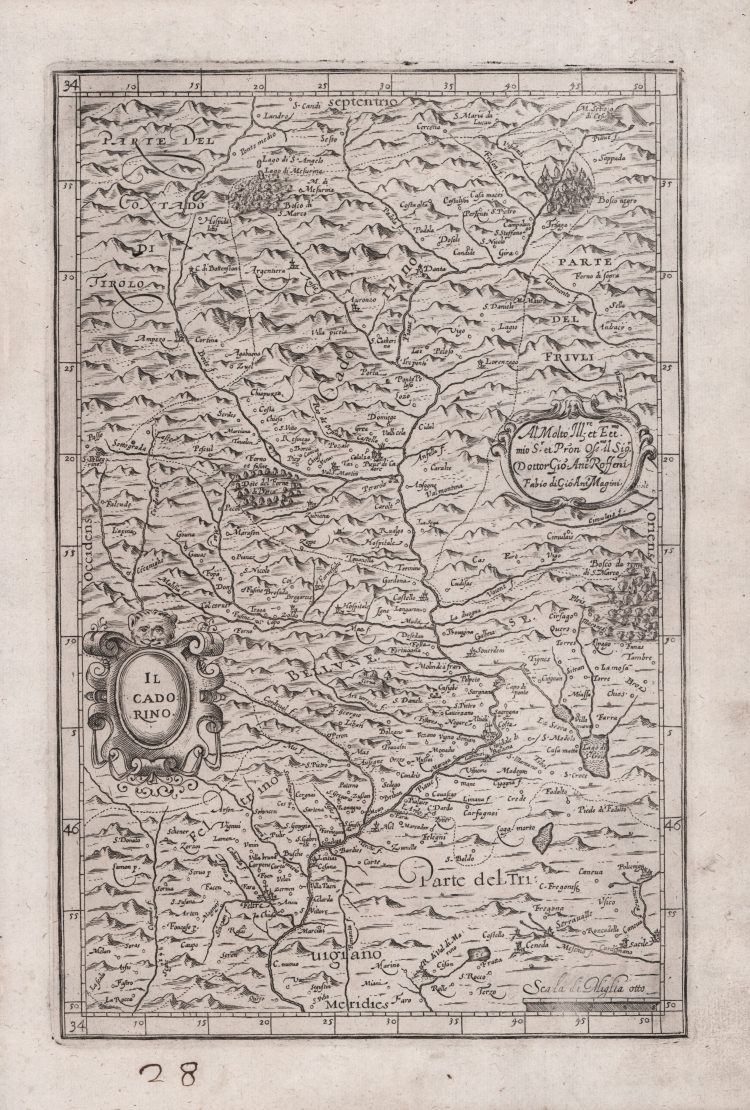  
| | |
| --- | --- |
| Reference: | S40978 |
| Author | Giovanni Antonio MAGINI |
| Year: | 1598 ca. |
| Zone: | Cadore |
| Printed: | Bologna |
| Measures: | 235 x 355 mm |
Description
Map taken from L'Italia edited by Fabio Magini, published in Bologna in 1620, three years after the untimely death of his father.
Composed of a short descriptive text of only 24 pages, the work is accompanied by 61 maps of the peninsula, and is the first example of an Italian atlas. The work is entirely by the hand of Giovanni Antonio Magini, who began the realization of the maps in 1594 or so; the first dated map (1595) the map of the territory of Bologna. All the maps were printed before 1620, in their provisional drafts, later corrected and updated for the final edition. For the realization of the plates Magini used two of the most famous engravers of the time: the Belgian Arnoldo Arnoldi and the English Benjamin Wright.
Copperplate, in good condition.

Nel cartiglio a sinistra il titolo IL CADORINO. nel cartiglio a destra dove si notano abrasioni la dedica Al Molto Ill.re et Ecc.mo mio S.r et P[at]ron[us] Oss.mo il Sig.r Dottor Gio. Ant.o Roffeni. Fabio di Gio[vanni] Ant.o Magini. In basso a destra la scala grafica Scala di Miglia otto (8 miglia pari a mm 49).

Orientazione nei quattro lati al centro con il nome dei punti cardinali Septentrio, Meridies, Oriens, Occidens, il nord in alto. Graduazione ai margini di 1' in 1' da 45° 49' a 46° 40' di latitudine, e da 34° 5' 20'' a 34° 50' 40'' di longitudine.

Esemplare di secondo stato, con la firma di Fabio Magini. Bell'esemplare, marginoso, con coloritura coeva, in perfetto stato di conservazione.

Bibliografia
Almagià (1922): pp. 9, 15, 42, 48, 136-137, n. 9; Almagià (1929): p. 39, 49-50; Almagià (1948): p. 5; Cucagna (1964): pp. 154-155; De Nard (1985): pp. 54-57; Lago-Rossit (1988): vol. II, pp. 13-19, Tav. LXXXV; Lago (1989): p. 273, n. 197; Marinelli (1881): p. 146, n. 702.