Plan of Maderno's design for St. Peter's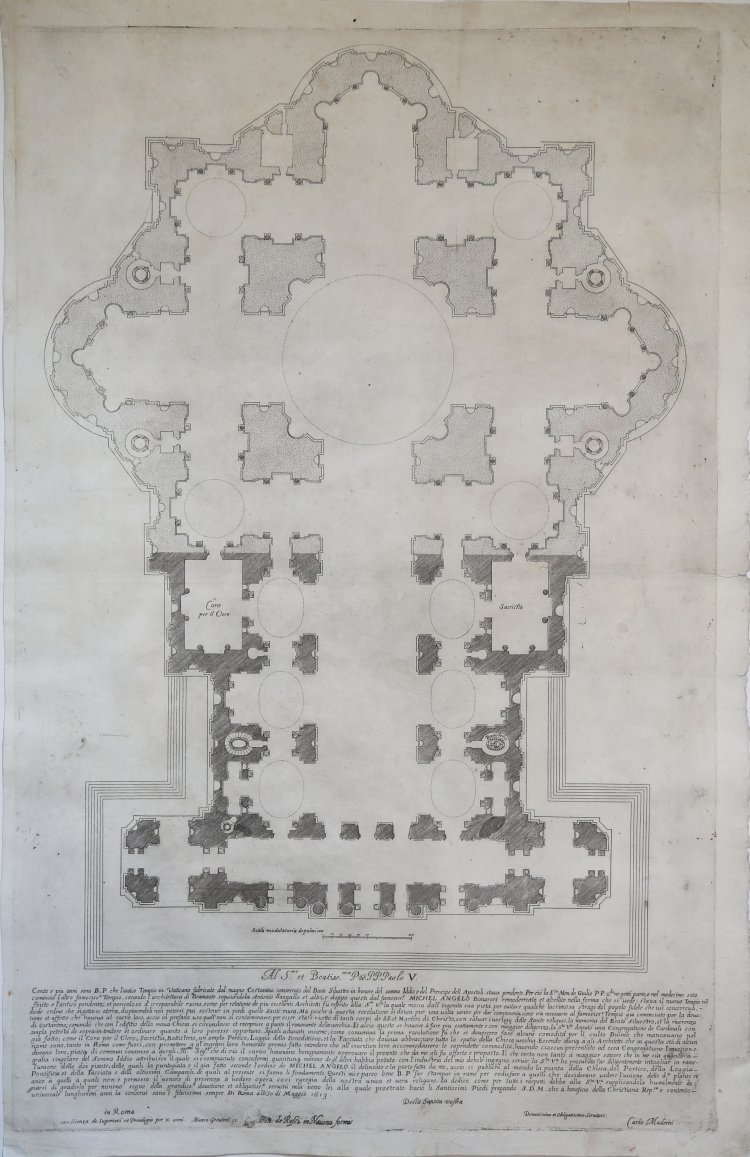  
| | |
| --- | --- |
| Reference: | S41414 |
| Author | Mattheus GREUTER |
| Year: | 1613 |
| Zone: | San Pietro |
| Printed: | Rome |
| Measures: | 690 x 445 mm |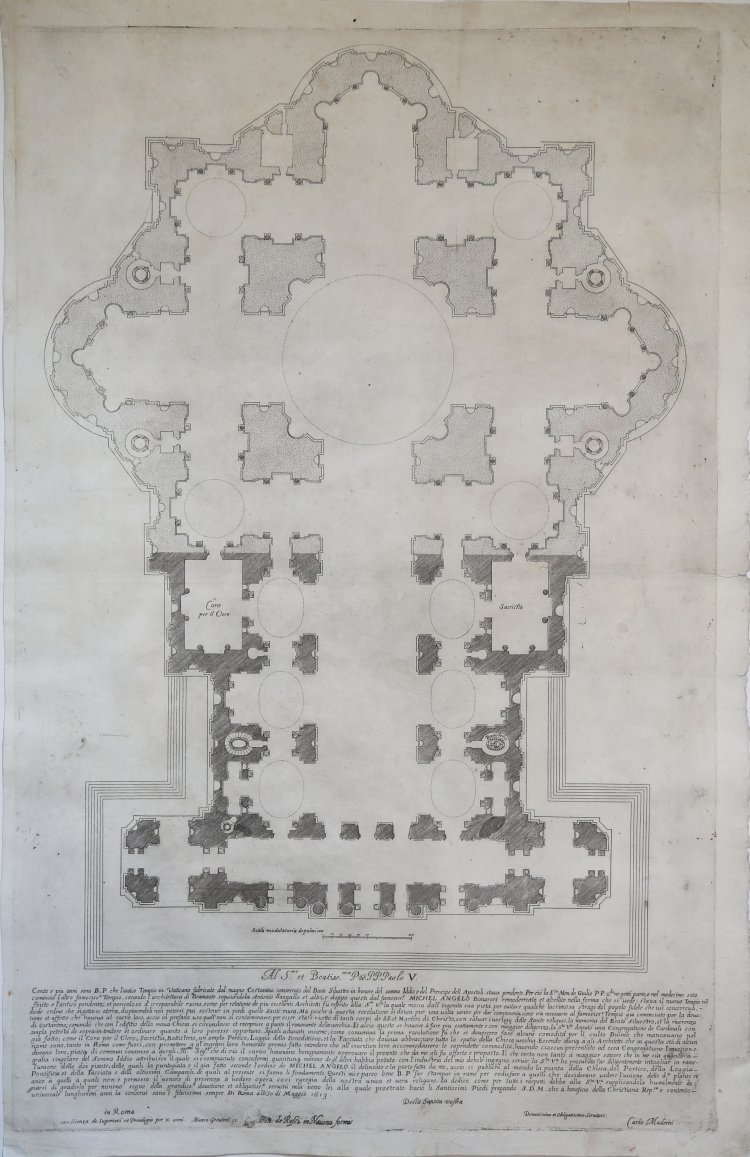  
| | |
| --- | --- |
| Reference: | S41414 |
| Author | Mattheus GREUTER |
| Year: | 1613 |
| Zone: | San Pietro |
| Printed: | Rome |
| Measures: | 690 x 445 mm |
Description
Etching, 1613, signed along the lower margin: "in Roma/con licenza de Superiori et Privilegio per X anni. Matteo Greuteri sc. Gio. Batt: de Rossi in Navona formis" Dated at the end of the dedication to Pope Paul V: "Di Roma, alli 30 di Maggio 1613".
Example in the second state, with the address of Giovan Battista de Rossi replacing the original by Giovanni Orlandi.
When Pope Paul V, born Camillo Borghese (1552 – 1621) ascended the throne in May 1605, St Peter's was still unfinished after nearly a century of construction. Until then, the building had remained largely faithful to the scheme devised by Michelangelo (from 1547), which was for a church with a centralised plan and a monumental dome. Although Michelangelo's scheme had its defenders in the shape of the Congregation of St Peter's, who were still determined – even as late as October 1606 – to persist with it, stressing its aesthetic qualities and Michelangelo's stature as an artist, Paul V overruled their decision late in 1606 and, intent on making his own mark on the design, insisted on a scheme that included a façade with a benediction loggia and also a nave behind it. Carlo Maderno (1556–1629), then incumbent architect to the Fabbrica of St Peter's, prepared a first scheme by April 1607. His design managed to retain much of the integrity of Michelangelo's centralised scheme by means of an internal visual barrier but, externally, transformed the church into a Latin cross that entirely covered the consecrated ground of the previous Constantinian basilica, with a new nave that had a portico in front supporting a benediction loggia above. The latter preserved aspects of the Michelangelo façade, notably its detailing and its overall scansion of ten shafts with the four central ones being the most prominent, but also depended on Maderno's own ground-breaking design for S. Susanna (1597) for the superimposed planes that give the centre a dramatic emphasis.
Given papal approval in September 1607, construction began, but was compromised c.1610–11 when the pope demanded the addition of two campanili (bell-towers), one at each end of the façade. Maderno had incorporated these into his design by September 1612, but they were never finished. When Paul V died in 1621, the belfries had still not been added and, although the southern one was subsequently built to a revised design by Bernini, it had to be demolished soon afterwards because of structural instability. Ultimately, both campanili were left in an unavoidably truncated state. Even below the belfries, Maderno's scheme was slightly altered in that his attic windows are different from those that were finally realized.
In June 1613 Maderno sent Greuter's print (together with his other engravings of the St Peter's scheme) to the head of the Congregation, Cardinal Maffeo Barberini, later Pope Urban VIII, who responded with a stinging critique of the design and complained in particular that the elevation did not show how the dome would be hidden by the addition of the nave. Maderno replied carefully (Thelen 1967a, p. 27, n.61; Hibbard 1971, p. 69f., n.4), explaining that the elevation was drawn using the conventions of orthogonal projection, although his defensive stance was a courtesy rather than a necessity since he already knew that his scheme had the pope's full backing.
A fine impression, on contemporary laid paper, with margins, some paper folds visible on the back, in good condition. A very rare work.
Bibliografia
The New Hollestein, The Greuter Family, II, n. 264 II/II; Mark McDonald, The Print Collection of Cassiano dal Pozzo, Architecture, Topography and Military Maps, vol. 1, p. 36, n. 1690.