Tre Brawl of Bruttobuono (La Barruffa or the Boxers)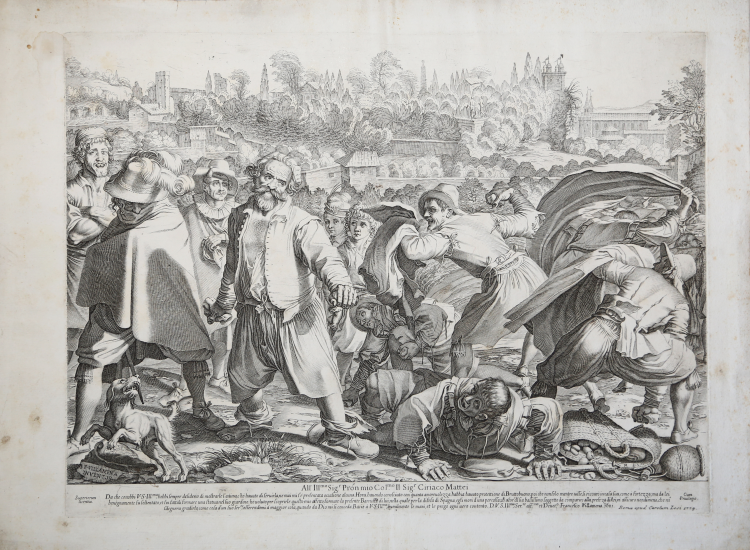  
| | |
| --- | --- |
| Reference: | S34858_AM |
| Author | Francesco VILLAMENA |
| Year: | 1601 |
| Measures: | 503 x 378 mm |
Description
Engraving, 1601, signed and dated on plate, at the end of the dedication to Ciriaco Mattei: "Francesco Villamena 1601". Later edition by Carlo Losi.

According to Michael Bury in 2001, the composition was designed and engraved by Villamena, and dedicated by him to the great patron of the arts Ciriaco Mattei (1542-1614), whose villa appears in the background.

It shows a street fight between the so-called 'Bruttobuono' in support of the Spanish, and stone-throwing, pro-French thugs. In the dedication, Villamena remarks that although this is a low subject ('basissimo soggetto'), of his own invention, he thinks that Mattei will not find it unacceptable. Spanish possession of territories in Southern Italy was widely contested in this period by various foreign powers. The pro-Spanish Mattei apparently gave sanctuary to the mortally wounded Bruttobuono in this real-life event.

Utilizing few types of marks, which are widely spaced and exceptionally neat, and allowing the white of the page to play an important role in defining light and dark, Villamena's engraving system emphasizes a dynamic sense of rhythm and design.

The plate was among Villamena's possessions at the time of his death and was listed in the inventory of January 1626.

Printed on laid paper, a light foxing on the white margins, otherwise in very good condition.