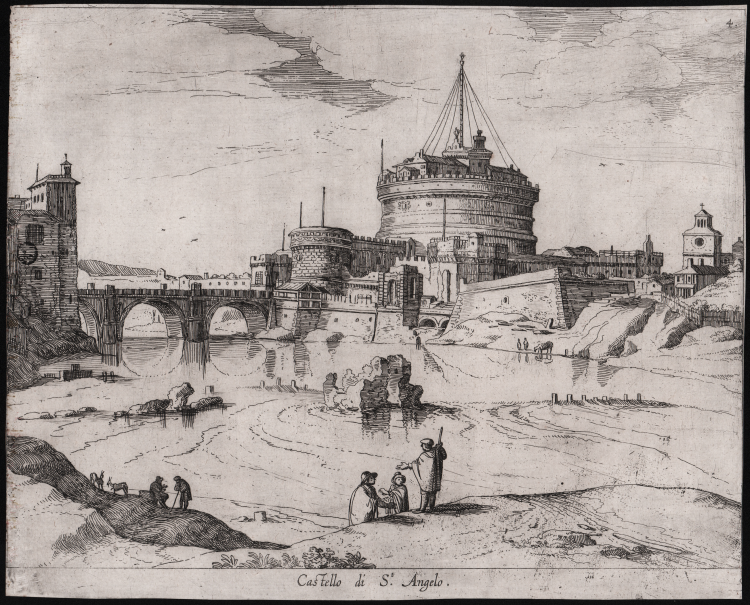  
| | |
| --- | --- |
| Reference: | S41358 |
| Author | Willem II van NIEULANDT |
| Year: | 1605 ca. |
| Measures: | 278 x 225 mm |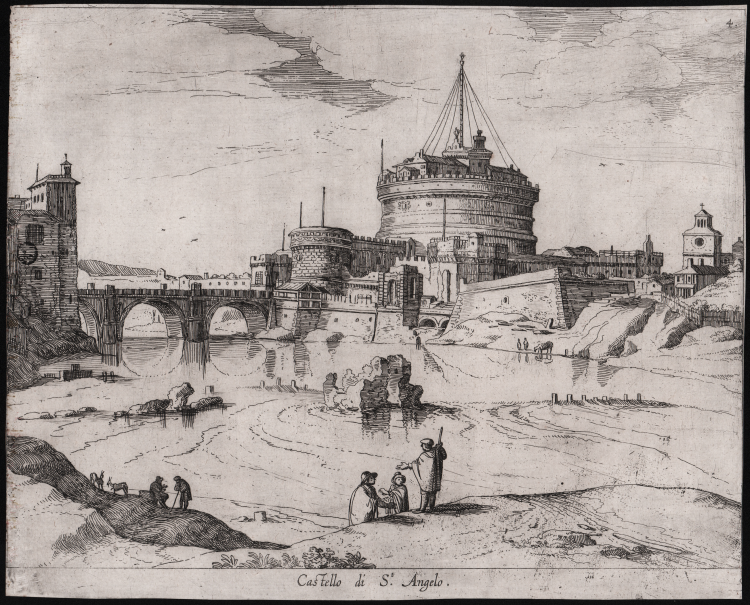  
| | |
| --- | --- |
| Reference: | S41358 |
| Author | Willem II van NIEULANDT |
| Year: | 1605 ca. |
| Measures: | 278 x 225 mm |
Description
A panoramic view of the Castel Sant'Angelo in Rome with the bridge seen to left, three figures seen from behind in central foreground.
Etching, circa 1605,  numbered 4 in top right. Lettered in margin below image with title.
This is the last of a series of four numbered plates showing Roman antiquities (Hollstein 6-9).  All four etchings are after drawings by Matthijs Bril, now in the Louvre.
Willem or Guiliam van Nieulandt, sometimes Terranova (1584–1635) was a painter, engraver, poet and playwright from Antwerp. Having spent some time in the studio run by Jacob Savery in Amsterdam, which was followed by a lengthy stay in Rome as an assistant to Paul Bril, the artist returned to his native Antwerp in about 1605. He became a member of the local Guild of St. Luke and was granted the freedom of the city not long afterwards. According to Willem Adriaan te Slaa, this set of Views of Rome is in all probability one of van Nieulandt's earliest printed works, dating back at 1605.
A fine impression, printed on contemporary laid paper, trimmed to the borderline. In good condition.
Bibliografia
te Slaa, Willem Adriaan, Willem van Nieulandt II as Printmaker, in "Print Quarterly", vol. 31, no. 4, 2014, pp. 379–94, Hollstein, Dutch and Flemish etchings, engravings and woodcuts c.1450-1700 (9.I).