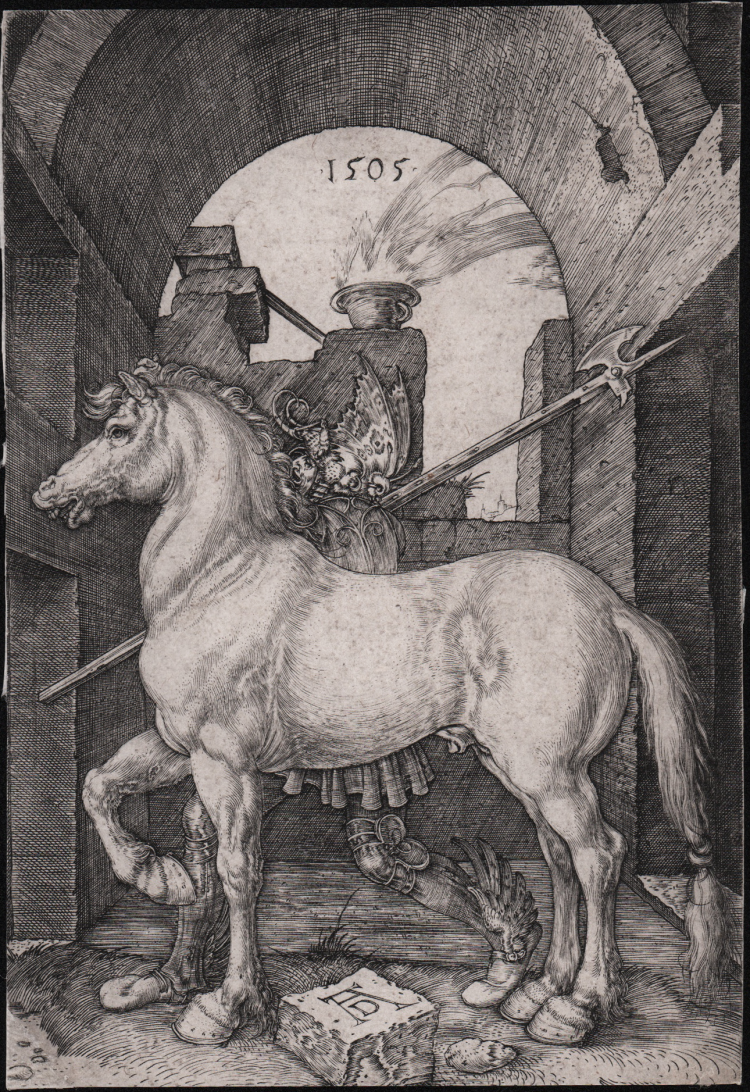  
| | |
| --- | --- |
| Reference: | S42523 |
| Author | Albrecht DURER |
| Year: | 1505 |
| Measures: | 105 x 160 mm |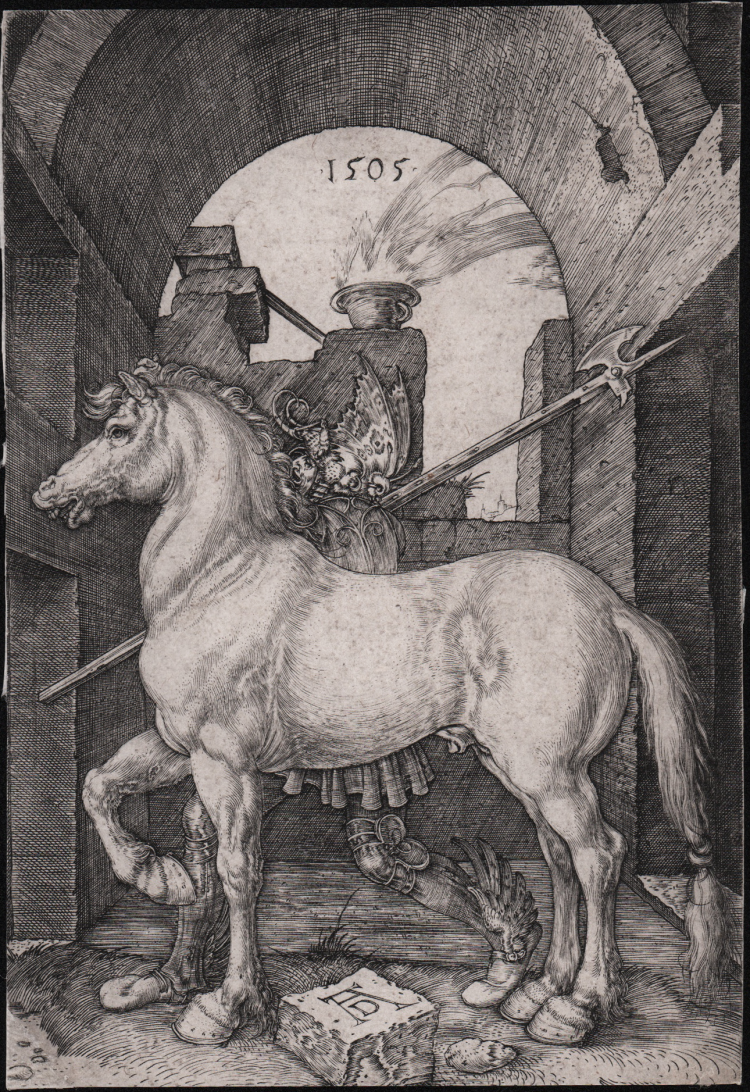  
| | |
| --- | --- |
| Reference: | S42523 |
| Author | Albrecht DURER |
| Year: | 1505 |
| Measures: | 105 x 160 mm |
Description
Engraving, 1505, signed and dated on plate.
Beautiful proof, of the second or third variant described by Meder, impressed on laid paper, trimmed to copperplate on three sides, inside marginal line at bottom, small restorations to lower and upper right corners, otherwise in excellent condition.
According with Panosky (1943) "Dürer seemingly had access to Leonardo's drawings as early as 1503, that this engraving was therefore executed by Dürer while in Italy. Opposite principles of composition obtain in this engraving (as compared to the "Large Horse". In the "Large Horse" the foreshortened animal is contrasted with a relatively flat and strictly frontal architecture and therefore appears more colossal. The "Small Horse" is presented in pure side elevation to reveal its exquisite proportions, set out against a heavy and receding barrel vault and therefore looks all the more slender and elegant in comparison. The "Large Horse" stands motionless, while the "Small Horse" nervously raises its foreleg. This contrast extends to the iconography. The "Large Horse" can hardly be interpreted mythologically or allegorically, except that the classical column surmounted by a nude may allude to the presence of the Northern armies in Italy. The "Small Horse,' " on the other hand, may well be meant to signify "Animal Sensuality restrained by the Higher Powers of the Intellect." In medieval and Renaissance symbolism the horse stands for violent, irrational passion, and quite specifically for "Lussuria"; and the flame bursting forth from a vase conspicuously placed above the group is no less common a symbol of "illuminating reason." This interpretation is admittedly conjectural. The horse is certainly of Italian breed, patterned after a Leonardesque model, but not until 1513 did Dürer do justice to the rhythmical as well as to the plastic beauty of Leonardo's conception. The bodies of Dürer's horses are always inscribed in a square and not in a rectangle. All other features of the "Small Horse"- proportions, modelling, the "pig-snouted" head--are unmistakably Leonardesque".
Bibliografia
Bartsch 96; Meder 93, b-c/d; Panofsky 203; Strauss 44.